About Acetek
Acetek and how we started
Our business was founded in 2001 when we won our first contract to supply several thousand dusk to dawn switches to one of the largest outdoor advertisers in the UK with our original electronic photocell design .
Acetek operated solely in the outdoor signage industry designing new optical and electronic ideas from 2001 to approximately 2010 after which time we decided to change our business direction. Having developed a range of professional electronic photocells energy saving dusk to dawn light sensitive sensor switches in a range of different voltages we found great interest from all industries. These included security, home & garden, solar, marine, car and caravaning and of course signage. In addition to these photocells we decided to stock a range of accessories often need to install them. After working with security companies for a time we were asked to develop visual deterrents flashing LED for external alarm boxes both battery and power type variations for which we have seen sales grow and grow. The Acetek site brings many of these security products and photocells to our customers using a simple on-line ordering process.
Design & Manufacturing
Acetek has been designing and manufacturing in the UK for the past 15 years and will continue to for the foreseeable future. With our computer aided design (CAD) equipment we are able to produce new circuit board designs including programming and upgrading our own integrated circuits. To be competitive in this industry and offer the best value designs,we often source our high specification components from around the world
Environment
Acetek is registered with the Environment agency as a producer and belongs to an approved WEEE membership scheme WEE/CE0120WU
Plus, most of the products we manuafcture have been produced using our own on-grid solar array.
The difference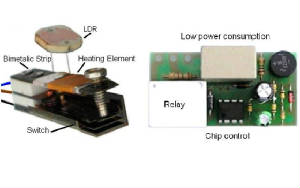 We are proud to share with you what you could be buying
Above are the internal mechanics of two photocells. The mechanical looking one on the left can be purchased for a little less than our electronic design on the right. Both products often look the same when packaged in their moulded cases and will work perfectly well, however after a year the one on the left will have cost you more. The reason is simple. The mechanical design on the left uses a light dependant resistor to control an electrical heating element, this arches a bi-metal switch open during the day to turn the lights off wasting power and costing money, whereas our electronic design has no heating element and uses a silicon based light sensor and a "Micro controller" chip to control the Silver-Tin-Oxide relay and all from a micro energy power supply. The
energy
saved on our design will pay the difference in the first year.